Gincla is mentioned from the beginning of the XIVth siècle
century as a hamlet of Puilaurens (modern spelling Puilaurens).
The local industries were food-production, apple growing, cereals (because of their keeping qualities) and foodstuff for cattle raising ; the nearby forests provided firewood and later charcoal for ironworking.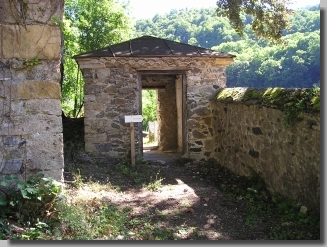 The ironworks brought prosperity to Gincla especially at the beginning of the XVIIIth century. This was due to the following :
- presence of rich iron ore in the neighborhood,
- water power provided by the river Boulzane
- and the charcoal as fuel.
The ironworks produced canonballs, iron strips, files etc. The invention of blast-furnaces which using coke and producing better quality iron, was a deathblow to ironworks of Gincla.
On the other hand, the sawmills, which benefited from the same local conditions, came into existence after the ironworks, and disapeared a few years before first World War.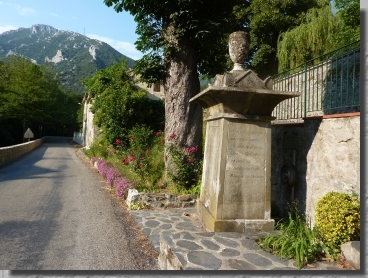 In 1816, Jacques Rivals-Gincla built the cenotaph in memory of his mother, Marie Suzanne de Cambon, who died at the age of 41. One can still read the inscription, attributed to the french poet
André Chénier : « On remplace un ami, une épouse, une amante. Mais une mère est un bien précieux qu'on reçoit une fois, par la bonté des cieux ». (One can replace a friend, a wife or a lover, but a mother is a precious gift that Heaven's goodness offers us at one time).
A few dates in the history of Gincla
1563

The creation of the two ironworks at Gincla by Louis du Vivier.

1720

The creation of a further ironworks by Jean Jacques Fonds.

1755

Dominique Fonds and Alexis Bonnans built two new ironworks (on the abandoned site of the old ones) and built a sawmill.

1764

Raymond Jacques Rivals built a mill for grinding corn.

1778

Raymond Jacques Rivals built a second mill.

1800-1805

Raymond Jacques Rivals built the house for the manager of the ironworks, known as « le Château » (the castle).

1816

Jacques Rivals built the cenotaph in memory of his mother Marie Suzanne de Cambon.

1819

Building of a cutting mill as an additional part of the ironworks.

1865

Shutdown of the ironworks.

1895

The enlargement and modernisation of the sawmill.

1901

The creation of a woodfibre factory and the installation of an electric turbine which provided the lighting for the village up to the sixties.

.